Description
Innovative Acrylic Name Plate for Apartment, House, Bunglow, Flats
These acrylic house signs look just like glass. 
High quality contemporary acrylic signs suitable for internal or external use. These signs look crystal clean like glass and are ideal for a modern look.
Apart from a wash occasionally no other maintenance is required. They can be used for house name plates, house signs, door number signs, or information signage.
These house name plates also look amazing with a backing vinyl applied – either solid colour or sand-blast effect. As being indoor name plate its lifespan will extent.
The plate is held away from the wall with stand-off mounts which are included in the cost.
LETTERS
We can print or cut the lettering for the sign in a variety of many fonts and colours and materials. Lettering can be Laser cut to any size. We can also outline lettering in a second colour to make it stand out . The background can be any plain colour, or one of our standard or sand-blast effect.
HOLES AND MOUNTS
Most of the above have 6mm holes drilled 4 no. at four corners and are fitted with 3/4 inch stainless steel studs-off mounts in a satin finish. The larger signs have 8mm holes drilled and come with 1 1/2 inches stainless steel studs -off mounts in a satin finish. These are included in the price.
SIZES AND SHAPES
Square Signs, Round Signs, Oval Signs, Rectangular Signs, Arch Top Signs
We also sell Acrylic Glass Signs and Nameplates with single colour lettering and plain or clear backgrounds.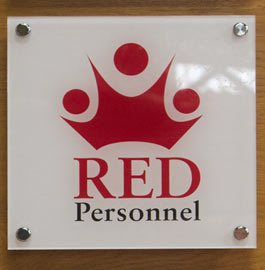 YOUR OWN IMAGES
We can also print your own print ready artwork at no extra charge.  It must be sent as vector artwork or a good quality jpg file (200dpi) sent at the correct size.
If you are not up to designing your own sign, just send in the images along with your text and our designers will incorporate them into the overall sign artwork.
Delivery Time : Working 4-5 Days. after approval of the Artwork design : Free*
Purpose : Indoor / Outdoor
Language : Any (English, Hindi, Marathi, Kannada,Tamil ……)
Idols : Subject to Availablility
Need some help – Call us on 9008911499 or 9036882889
Clear Glass Office & House Signs in India
Related Products : Brass Name Plates, Steel Name Plates, Wood Name Plates, Stone Name Plates, Photo Frames,